Skaneateles is a lovely small town on the north shore of
Skaneateles Lake
, one of the world's finest and most scenic lakes. Accessible through Routes 20, 41, and 321, this quaint village sits between the towns of Marcellus and Elbridge and is one of the best places to find a cozy bed-and-breakfast.
Skaneateles is a picturesque community with tree-lined streets, 19th-century residences, antique stores, boutiques, art galleries, restaurants, and so much more. Throughout the year, the stunning Finger Lakes region offers a wide range of hotels, bed-and-breakfasts, and activities for visitors, vacationers, and locals to experience. Read on to discover some of Skaneateles' best bed-and-breakfast locations.
1. Mirbeau Inn & Spa Skaneateles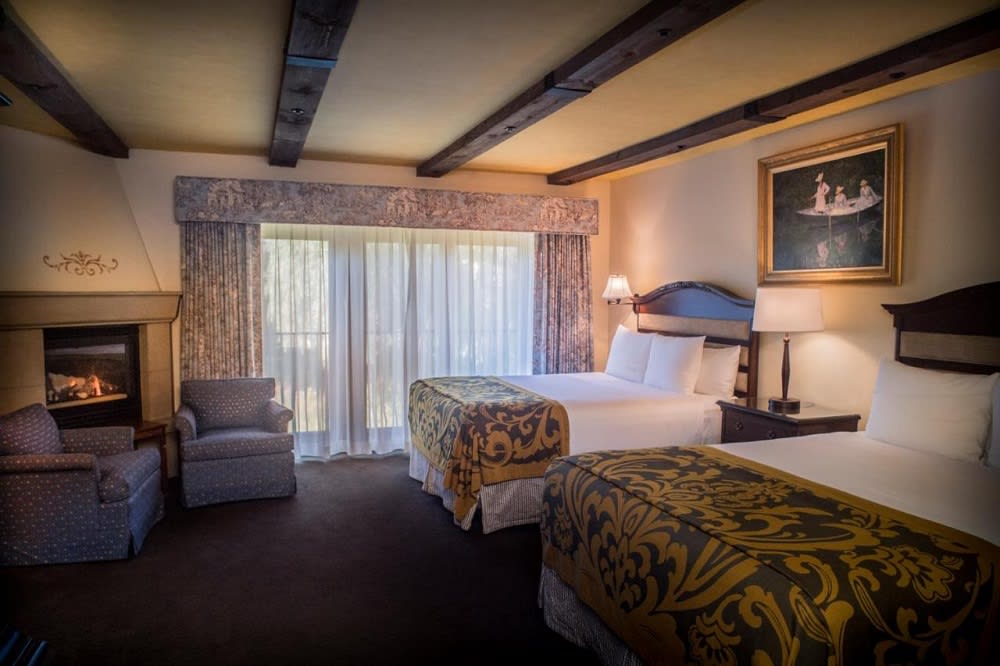 Photo Courtesy of Mirbeau Inn & Spa Skaneateles
The
Mirbeau Inn & Spa Skaneateles
is a fantastic spa retreat with 34 guest rooms that combines the sophisticated comforts and domestic atmosphere of a private estate with the facilities of a gracious French manor house. In each room, you'll find cozy fireplaces, luxurious bathrooms with walk-in showers and soaking tubs, double basins for freshening up, and the beautiful scenery of the Monet ponds and gardens.
The Main Inn has 26 guest rooms, some of which are interconnecting, with either single king or double queen beds. The elevator and covered bridge connect the Main Inn rooms to the world-class spa and casual fine-dining restaurant.
Individual guest rooms are housed in the four standalone Cottage structures, each with its external door. The spa and dining room are only a short stroll through the yard. These standalone Cottages and the chateau-like Inn and Spa buildings are designed to resemble a private rural estate that arcs elegantly around the stunning gardens and ponds inspired by Monet's gardens.

Mirbeau offers cosmopolitan cuisine inspired by French-speaking communities worldwide for their breakfast menu and Sunday brunch, lunch, and dinner. In-season, sustainable and locally-sourced options exist on the menu to give guests an unforgettable dining experience. The chefs employ traditional methods and acquire local and regional fruit, dairy, and meats, focusing on clean food and healthy renditions of classic French recipes.
2. Skaneateles Suites Boutique Hotel
Skaneateles Suites Boutique Hotel
at Village Center, located in the lovely Finger Lakes wine region, offers visitors modern, deluxe rooms with jetted spa tubs and easy off-street guest parking. This quaint hotel has rooms for singles and couples, so whether you're visiting for business or pleasure, there's no better place to stay.
The Village of Skaneateles, complete with turn-of-the-century neighborhoods, is only a short distance away for those wanting to explore all Skaneateles has to offer. Top restaurants, entertainment, waterfront activities, and attractions are all within half a block of Clift Park and Skaneateles Lake, perfect for stretching your legs and taking in the scenery.
3. Gray House Bed & Breakfast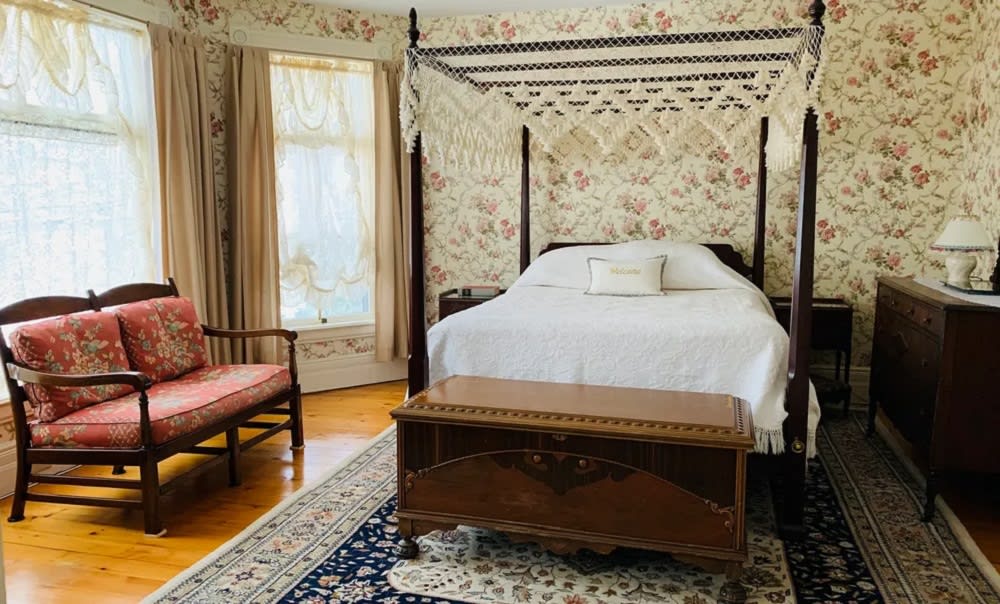 Photo Courtesy of Gray House Bed & Breakfast
The Gray House Bed & Breakfast rooms include twin, full, or queen beds and newly renovated private bathrooms. Suites with a private living room and kitchen are also available. The Milford Room on the first floor features a queen-sized bed, a refurbished private bathroom, and air conditioning. Also located on this floor is The Brice Room, which features full- and twin-sized antique beds and a restored private bathroom and air conditioning.
On the second floor, there are several suites for you to choose from. The Bishop Suite can accommodate up to four guests, as it contains a queen-sized bed in the primary bedroom and a daybed in the sitting area. A kitchen and a sitting area with cable television are available. The Sisters' Suite is another room that can accommodate up to four guests and contains similar features as the Bishop Suite.
4. The Bond 1835
The Bond 1835
is a Skaneateles farmhouse established in 1835 that has been restored, remodeled, and modernized into a five-bedroom bed-and-breakfast with all the contemporary comforts and facilities you'd expect from a five-star inn. The Bond 1835 overlooks Skaneateles Lake in the Finger Lakes Region of Central New York, providing beautiful sunset views to its visitors. Enjoy a breakfast buffet with locally sourced fruits, eggs, freshly baked pastries, mimosas, or a Bloody Mary. Private baths, individually controlled air and heat, TV with Netflix and Amazon, refrigerator, Keurig coffee and liquor station, fabulously comfortable mattresses, pleasantly smooth sheets, and more are standard in all guest rooms.
Their Lake King View rooms consist of lake breezes, tree-swing views, queen-sized beds, and large bathroom areas. One of these rooms also comes with a desk if you need somewhere to get some work done. The Bond Suite is also one of the largest suites offered here and features a California King bed, a luxurious queen couch sleeper, and space for a twin rollaway bed. Antiques scatter The Bond from 18th-century Belgium, and the bathroom has a clawfoot tub, a large shower, and plenty of space.
5. 2W Lake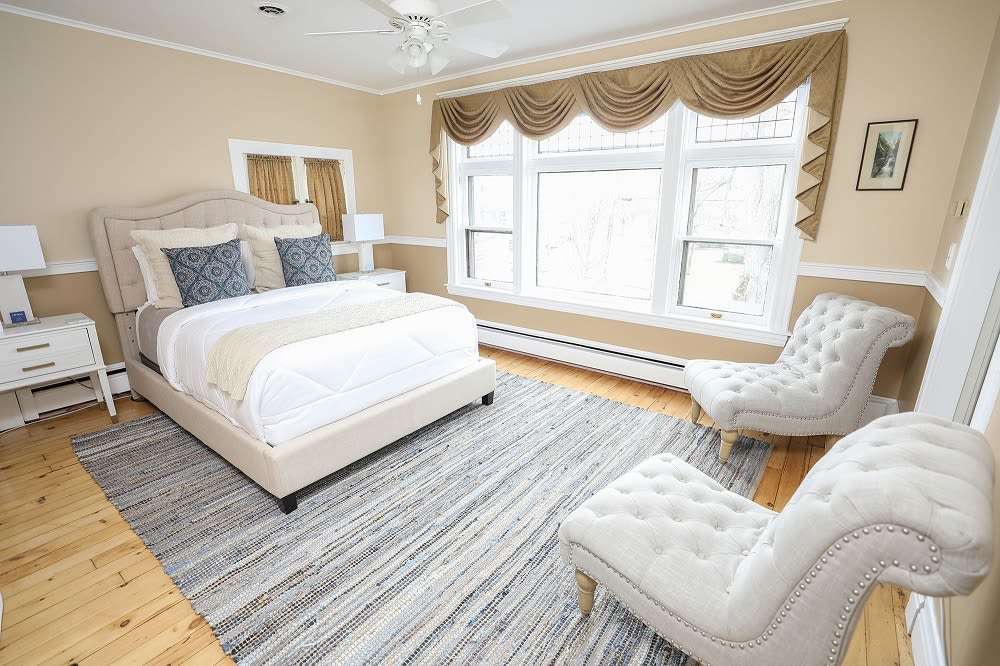 Photo Courtesy of 2W Lake
2W Lake
is the epitome of calm and sophistication, with views of Skaneateles Lake, the village's main street, and Shotwell Memorial Park. This Victorian beauty is unmistakably a sumptuous hideaway for couples and families alike. With suave furniture, elegant décor, and the unrivaled luxury of your home away from home, the premium accommodations at 2W Lake encapsulate the rich culture and history of Skaneateles, New York.
Whether you're in town for a weekend or a week, 2W Lake will provide elegance and convenience, where you can rest and unwind peacefully. This luxurious bed-and-breakfast is the best place to hang your hat as it's within walking distance of all the village shops and eateries. Refrigerators, Keurig coffee/tea makers, and free Internet and TV access are available in all their rooms. They are dedicated to preserving the highest levels of quality to meet your expectations. They can also modify your breakfast to your taste, regardless of your preferences.
Skaneateles offers unique shops and galleries, exquisite cuisine, and above all else, tranquility. Immerse yourself in the Finger Lakes' incredible bed-and-breakfast as you enjoy everything the town offers. If you are interested in learning more about Skaneateles country properties, contact real estate agent
Ellen O'Connor
today.